News
TV BINGO
posted Mar 19, 2020, 1:40 PM
Skate Keewatin's TV Bingo on Shaw is postponed until further notice. If you have already purchased cards, hang onto them, as games may pick up again in the future.
IMPORTANT SEASON INFO
posted Mar 14, 2020, 12:43 PM
Due to rink closures and to keep our Skate Keewatin family safe, our skating season has come to an end. Test days and competitions in Manitoba have been canceled. All of our programming will not resume. However, we will look at an Achievement Night, should ice become available and we have approval from all stakeholders. Our Skate Keewatin executive will deal with all necessary refunds, but we ask for your patience as we work through it. Watch for information to follow regarding pickup for Mom's Pantry orders. Our first priority is to keep our Skate Keewatin family safe and healthy. If you have any questions or concerns, please contact Debbie via skatekeewatin@outlook.com
Skate Canada's COVID-19 response
CANSKATE EVENT
posted Feb 26, 2020, 11:14 AM
On Saturday, February 29, Skate Keewatin will be holding a CanSkate event at Keewatin Memorial Arena, beginning at 12:30. Skaters will run through each of the agility, balance, and control circuits to show off their skills. Afterwards, parents will be able to join their skaters on the ice to see what the CanSkate program is all about. Hope to see you there!
SKATE KEEWATIN TV BINGO
posted Jan 11, 2020, 10:23 PM
Skate Keewatin is doing TV Bingo on Shaw! Beginning January 8 and running every Wednesday until April 29, tune into Kenora's local Shaw channel channel at 7:00pm to play some bingo and maybe win some big money, all while supporting Skate Keewatin.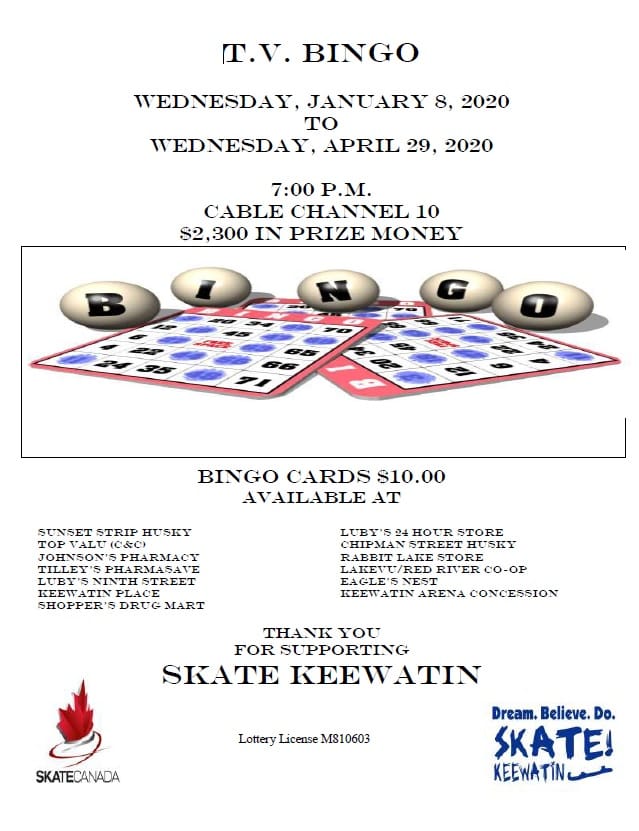 JANUARY 2020 START DATES
posted Jan 5, 2020, 10:28 PM
STARskate and CanSkate Plus begin again on January 6.
Pre-CanSkate and CanSkate begin again on January 13.